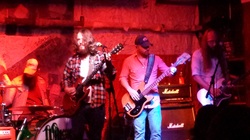 There's a little place in NYC that is putting other venues to shame for having incredible live music. Hill Country Live, on 26th Street, consistently brings amazing artists to the city. This past Monday night was no different. Whiskey Myers, a southern country rock band from Texas, performed an almost two hour set for free. Yep free. And if you weren't there, you missed out.
Who knows what to expect in terms of a turnout for a show on a Monday night in the big apple, but the place seemed at least 60% full at all times. Patrons came in and out to eat (the place is a BBQ joint), but many stayed and the majority of people seemed to pay attention. This to me speaks to just how good of a band they are. The lead singer in voice and mannerisms reminds me of Jaren from the Cadillac Three, but neither band is showy. The guys are a tight sounding group that lets the music, with influences from rock, R&B and country, do the talking. Whiskey Myers delivered, whether it was via a harmonica, guitar solos or harmonizing vocals. Their songs will grab you, not only through the melody, but the lyrics as well. They played some new stuff off of their forthcoming album
Early Morning Shakes
as well as 'Anna Marie', 'Virginia,' 'Ballad of A Southern Man' and their current single 'Home.' As with all good shows, it came to an end all too quickly. Be sure to check these guys out online and at a show if they come near you.
Their new album will be available in February.

For more information http://www.whiskeymyers.com/